Creative thinking and attention to detail are necessities for small business success. For a "Mom & Pop" store to thrive for three decades, it's the little things that make a difference. A seemingly small idea by owner Meghan Prestidge immediately yielded big things for Concord Cookware in 2015. On a bright Saturday in June, the Walden Street staff spent a few hours relocating their collection of fine knives from a sunny corner to a place of prominence in the center of the store. The results were astounding.
"We'd been talking about the move for years," said Prestidge. "It's tough to name a more important kitchen tool than the right knife for the right job. These great pieces had been an attractive footnote for years. They deserved prime real estate within the store."
In highlighting their collection, brand recognition has played a pivotal role. Customer stories of their decades-old Sabatier are plentiful as they ponder an addition to their kitchen tool kit. Manufactured by Thiers-Issard in Thiers, France, the Sabatier knives sold by Concord Cookware are 100% carbon steel, promising phenomenal edge retention and ease of sharpening.
"Carbon steel knives do require a bit more TLC than knives with high stainless steel content," explains Sales Manager Allie Hollenkamp. "They may not be the right choice for the casual cook but their performance is tough to beat. It's not unusual for a professional chef from a Boston establishment to stop by for a Sabatier."
Along with Sabatier, Concord Cookware carries select pieces from Japanese knife maker Shun, as well as pieces from Massachusetts manufacturer R. Murphy of Ayer. But the biggest story of 2015 for this family business was the sale of cutlery from Wusthof of Germany. The staff estimates that in the final six months of the year, four times the amount of Wusthof knives were sold than in the thirty years combined that they've been on Walden Street.
"Great people, great product," explains Prestidge. "They care about small businesses and they back it up, as they've pulled out of a lot of the big box stores. That provides a great opportunity for independents. Not only does our new display stop people in their tracks but our prices are the lowest possible and that makes all the difference."
Sales Manager Hollenkamp concurs. "Many of Wusthof's promotions have definitely resulted in returning customers. More importantly, we're able to order one knife at a time or as many as a customer needs. In fact, a gentleman walked in one afternoon in December and ordered 39 knives of various types. That's when I knew we'd created a monster."
Ability to deliver is at the center of Prestidge's little idea and the good people at Wusthof have done much to make that happen. Shipping out of Norwalk, Connecticut, Wusthof commonly has Concord Cookware's order to them in just two or three days.
As sales gain momentum due to one small idea, Prestidge and Hollenkamp look to a future where Concord Cookware becomes the region's go-to source for affordable and durable knives of all descriptions. Good ideas are at the core of small business success and Concord Cookware believes they've found their edge.
It's about prevention, said Deb Girard, executive director of the Melanoma Foundation of New England. And it's all about skin.
Melanoma is a form of skin cancer that is preventable and treatable if caught early.
The foundation is settling into its new office suite at 490 Virginia Road in Concord. The nonprofit organization was founded in 1999 by a couple whose son died from melanoma back in a time when there was no treatment, Girard said.
"In the last two years we have begun to see clinical trials of some new treatments. It's very exciting," she said.
But Girard is still focused on disease prevention, particularly among young people in their teens and 20s. Why? Because they love to tan, and exposure to ultraviolet radiation is the prime cause of a melanoma diagnosis.
The use of tanning beds, popular with high schoolers, is particularly dangerous, she said.
Girard said the melanoma rates in New England are some of the highest in the country because of the extensive shoreline and lakesides, and the many ski slopes that attract outdoor enthusiasts.
To address the problem, the MFNE is promoting the use of a sunscreen dispenser that can be set up at any park, field, beach, ski slope or shoreline. They are used like antibacterial hand cleaning dispensers. The City of Boston and the state Department of Conservation and Recreation have both purchased several dozen.
Girard said the MFNE is taking RFPs for communities or agencies that want a free dispenser.
"You can submit a form telling us why you want a dispenser in your community," said Girard.
Education is a big piece of the MFNE's work. The "Your Skin is In" is aimed at teens who tend to flock to tanning salons in the spring before prom and spring break.
"It's a national pledge program that teens won't use tanning beds before they are 18," she said.
The foundation also has young survivors speak to high schools about taking preventative measures. For college students, Girard said there is an ambassador program where a student can "earn a dispenser for their campus."
"It's a very grassroots movement," she said. "The surgeon general issued a call to action about melanoma." While other cancers are in decline, there are five million new diagnoses per year at a cost of $8.1 billion for treatment. Girard said about 10,000 people die from melanoma in the U.S. every year.
The foundation also hands out high-SPF lip balm and provides facial scanners, which show the effects of sun damage on the face.
"It's the only cancer you can see, so performing a skin check is critical," she said.
Another program offered by the MFNE trains cosmetologists, massage therapists and hairdressers to look for the signs of melanoma in their customers because the scalp and back of the neck are hard to self-check.
There are also support groups for patients, families and friends, all free.
The foundation has three special events throughout the year to cover its approximate $1 million budget.
The MFNE is sponsoring 30 runners in the upcoming Boston Marathon who will donate their pledge money to the foundation. Additionally, the foundation has a golf tournament in July at the Boston Club and Black Rock, two clubs on the South Shore, and gala in November at the Four Seasons Hotel.
"We run all our own programs and events," said Girard. A staff of five occupies the suite in Concord, and there are many volunteers to help wherever needed.
"Early detection saves lives," said Girard.
For more information, go to www.mfne.org.
NNE Marketing - 11/7/2015
With a combined 39 years in fundraising and direct response marketing, business partners Chris Law and Craig Zeltsar took their experience and opened NNE Marketing six years ago. The company is now housed at 1666 Massachusetts Ave. in Lexington in a building owned by Spaulding Management, LLC.
"I have a passion for the causes we work for," said Law from his spacious suite of offices.
NNE Marketing helps its nonprofit clients with fundraising, in part, by coming at the issue from the donor's perspective. It's not all about the nonprofit, he said, but about the attachment the donor has to the cause that makes for a successful campaign.
That means a lot of in-depth analysis and an understanding of the donor base. His company is skilled at defining a particular audience for a cause, and honing a pitch to that base that results in more revenue.
"It's the science of data and the art of communication," said Law in summation.
He said the rise of social media and internet marketing have changed the fundraising landscape.
Law said NNE Marketing was tangentially involved with the super-successful ALS bucket challenge that spread over the web like wildfire. Using Facebook and other social media sites, the bucket challenge spread among friends and co-workers, combining photos and videos to get the word out.
According to the NNE website, "NNE was created to redefine how a direct marketing agency provides services to the non-profit fundraising world and how our clients interact with their donor population. We offer a fresh and effective strategic approach to surmounting the analytic and creative challenges of today's fundraising environment."
One of his clients is the nonprofit Cystic Fibrosis Foundation, and Law said a Boston company, with the assistance of CFF funded research, developed a new and exciting drug to treat the disease.
"We wanted to get that information out to Cystic's donors," said Law. "That is what donors are looking for: some value for their giving."
NNE employs just 12 people, but each one has been carefully chosen for their ability to "interact between donors and the organizations we represent."
"We want a two-way dialogue," said Law.
"There are donor initiated patterns and reasons for giving," he said. "We like to make it a personal one."
Law also recognizes that donors are not always measured by money, but by time and commitment as well.
NNE Marketing is in a period of "controlled growth," said Law.
"We are growing. All our employees are passionate about their work," he said.
The company name suggests the direction that he wants to see a client move: like an arrow pointing upward and to the right. North, northeast.
Some of his other clients include: Special Olympics, American Diabetes Association, Foundation Fighting Blindness, National Wildlife Federation, NASCAR Foundation, and Children's Healthcare of Atlanta.
For more information, go to www.nnemarketing.com.
The Dotted i - 9/17/2015
Growing up in Concord, Shannon Gustafson loved to shop locally, enjoying the retail areas lined with locally-owned businesses.
Fast forward to today, and Gustafson operates her own business, and couldn't be happier. She owns The Dotted i, which recently moved to a new location at 1 Walden Street in a building managed by Spaulding Management LLC.
Gustafson loves stationery, with the wide selection of papers and designs used to make beautiful invitations and notecards. She combined her love of stationery with her interest in starting a business of her own, and opened The Dotted I on Main Street in the Milldam 15 years ago with the help of her sister-in-law, who at the time was looking for a job and had retail experience.
Things have evolved over the years, bringing new challenges and changing merchandise.
So in addition to scores of choices in stationery and invitations, The Dotted i now carries a wide range of gifts, holiday decorations, themed gifts, phone cases, coasters, and small home décor such as candles, small trays, napkins, entertaining goods, glassware, and much more.
"My customers have wanted this and asked for it," said Gustafson. "It is consistent with my branding.
She used to do trunk shows in the beginning, but now only participates occasionally for charity.
He said farm-to-table is a hot new trend in dining, along with fewer carbohydrate-based dishes, more greens and whole grains.
The number one challenge? The internet. Easy question.
With scores of websites offering printed business cards, stationery and invitations, Gustafson relies on the fact that her customers are loyal and appreciate the customized care she provides.
Weddings are a big part of her invitation business, and most brides and their families do not want to order invitations over the web for that.
"There are so many pieces to a wedding, so much customization," she said. "People like to talk to someone one-on-one. They may need help, and we can provide that."
Birthday invitations and décor are also popular with her customers, and she can steer them toward just the right items to make the party stand out, whether its for a one-year-old or someone quite a bit older.
Birthday invitations and décor are also popular with her customers, and she can steer them toward just the right items to make the party stand out, whether its for a one-year-old or someone quite a bit older.
"It's 50 percent smaller, but actually so much better," said Gustafson. "When you move, you prune out the things that are not selling. You refresh and streamline."
She also noted the significant storage in the basement that is shared by other retailers on the block.
"Our customers have been so positive about the move," she said.
Gustafson can also provide party or small event planning services based on her years of experience in selling theme-related merchandise.
"It's been really, truly great here," said Gustafson. "My customers are loyal and they want to shop locally. I can't say enough about their support after the move."
Visit www.thedottedi.net for all manner of holiday, wedding, party or event merchandise, from invitations, to notecards, to decorations, to housewares and gifts. It is truly "a paper boutique."
Lexx attracts crowds - 6/17/2015
Chris Bateman has worked in restaurants for 20-plus years, yet finds new challenges and rewards in the highly competitive business.
He became a limited partner of Lexx Restaurant on Mass Ave. in Lexington center about a decade ago.
Over the last year and a half, he said several other eateries have sprung up to cater to the lunch and dinner crowd, "but we paved the way."
Lexx, accommodating 120 diners, is a tenant of Spaulding Management, LLC, a Concord-based commercial real estate firm. Bateman said there are about 12 servers on the floor.
He said Sunday brunch is attracting waves of people since he added it last year after a hiatus, and the outdoor seating adds to the comfortable contemporary ambience.
Bateman said the menu changes at Lexx several times a year, reflecting trends in dining and the availability of fresh ingredients.
"We change, we adapt," said Bateman. "We keep up with the trends."
He said farm-to-table is a hot new trend in dining, along with fewer carbohydrate-based dishes, more greens and whole grains.
Lexx has a new executive chef, Jonathan Post, who came on the job just a few months ago.
Bateman said Post has brought a fresh eye to the menu.
"He changes the 'chef's specials' daily," said Bateman.
"He's super-creative and very talented," said Bateman. "He's brought in a new flavor profile."
Bateman said drawing up a menu is a "lengthy, hands-on" process at Lexx.
Once the menu is settled - balancing dishes and ingredients- the chef and sous chef make all the recipes to ensure they are the best they can be.
"After that, we work with our vendors to source the ingredients," said Bateman.
According to Bateman, Post worked at Blue Ginger and 80 Thoreau before coming to Lexx.
Before landing at Lexx himself, Bateman worked at a regional chain restaurant for eight years, and various other eateries after finishing college in Rhode Island.
Colin Smith Architecture - 6/9/2015
The journey of a young boy who was passionate about drawing and building to establishing his own architecture business in Lexington was a natural, steady progression for Colin Smith.
After college at the Rhode Island School for Design, Smith said he worked for a large architecture firm on commercial and corporate projects, but missed the personal connections that come from smaller, residential work.
Now his company, Colin Smith Architecture at 1666 Mass Ave., has a variety of clients with small home renovations, to corporate interior makeovers, and a good amount of work on historical properties in the Greater Boston area. He's built the organization over the last 13 years, now employing half a dozen others.
He said he loves researching into the history of the homes he works on.
"We learn a lot," said Smith of his clients with historical homes. "We come to understand how things were built. Our practice enjoys research."
He said it is sometimes challenging.
"It's new work but we apply what we have learned from the past," said Smith. "We are never doing the same thing twice. It's not cookie-cutter work."
He said most of his clients live around Route 128. "The housing stock is wonderful."
He particularly likes late Victorian-era shingle homes because they are "flexible," and "not as rigid as some of the other styles."
"You can do a lot with it," he said.
He said he takes his clues, in part, from the homes themselves.
"We work with what we have," said Smith. "We take our clues from the past, and respect what we are given. When we are done, it looks seamless."
Smith said there are many factors that go into a successful project: the client, the budget, and the house you are given.
"We try to find a solution that solves multiple problems," he said.
He has leased office space on Mass Ave. for about eight years, when the business was very small.
"We have been growing ever since," said Smith. "We have weathered the downturn in the real estate market. We are very busy."
"We diversified," he said, "getting into commercial work, churches, corporate interiors, historical buildings and residences."
"We have the ability to work the whole spectrum," he said. "Everything is humming along now."
For Colin's website, go to www.colinsmitharch.com.
Dinardo Design caters to print publishing - 4/26/2015
Next time you are interested in fanciful yet impactful design for your children's books or classroom materials, look no further than Dinardo Design in Concord.
The website is www.dinardodesign.com.
"We are a print-based design firm," said business owner Jeff Dinardo. "I'm happy to say that even with e-readers and the Internet, we feel confident that classrooms and kids still like to hold a book in their hands."
Dinardo got his start in graphic design after graduating from Skidmore College with a degree in art. His first job out of college was for text book companies including Boston's Houghton-Mifflin.
"That's where I learned all about making books for kids in the classroom," Dinardo said.
But more than learning about designing clever illustrations for books, Dinardo loved watching the outside artists work.
"My last job at Houghton Mifflin was working with outside studios, and they seemed to be having more fun than I was," said Dinardo.
So in 1991, he left the buttoned down world of Houghton Mifflin and started Dinardo Design where his business has expanded from textbook illustration to creating books, brochures, logos, letterheads, advertising and marketing solutions.
"I never looked back," said Dinardo. "Of course, I quickly realized that no one was paying for my vacations and health plan, but I would never go back to working for someone else again."
Jeff is well pleased with the company's location in the historic red barn on Virginia Road.
"The location is easy to get to for all my staff and its situated in a cool building just minutes from downtown Concord," he said. "Also I am a big fan of This Old House (another tenant in the building) and I love seeing the guys in the hall sometimes."
Dinardo described the creative process:
"We have several designers on staff. We get the manuscript for a book and consider what would be the best visuals for it. That can mean using photography, funny illustrations or something else. We are lucky that we get to work on all kinds of books."
On his website, there are dozens of examples of bright, colorful illustrations for print materials of all kinds. For instance, Dinardo designed several large nursery and cultural rhyme posters in English and Spanish for Houghton Mifflin. He also designed a set of eight books for Millmark Education; four on Geography and four on Social Studies. And Delta Education asked the company to design the covers and interiors for new classroom science dictionaries.
As for the rapidly changing technology, Dinardo said he is surprised at the speed of new product development."
"I am always amazed at the new technology. When I got out of school there was no industry for what we do now. There were no affordable computers that can do creative design and layout. And we use artists all over the world and all the art is delivered online."
At the end of the day, Dinardo said he feels "very lucky" to be doing what he loves. He has expanded his reach by teaming up with a colleague to start Red Chair Press.
"Dinardo Design does 90 percent of its work for other publishers," said Dinardo. But after starting Red Chair Press (www.redchairpress.com) he realized, "it's nice to be on the other side of things and to create the series and be a vested partner in what we do."
"I feel very lucky to do what I love to do."
Dinardo Design is at 490 Virginia Road, Concord. Jeff can be reached at 978 371-0111, ext. 1. Or email him at Jeff@dinardodesign.com.
Keeping it real - 1/23/2015
Do you know what's in your skin care products? Your children's lotion? Your supplements?
If not, or you can't pronounce the names of the ingredients, you're probably the perfect customer for NYR Organic.
The British company that mixes pure deluxe scented potions has its U.S. office in the red barn at 490 Virginia Road, an address that Marketing and Communications Officer Shannon Notebaert feels is on-brand and terrific.
"It's so awesome working in a red barn," Notebaert said recently.
The NYR Organic catalog is a colorful feast for the eyes. In addition to all manner of bath and beauty products, there are richly scented lotions and supplements for men, women and children.
Notebaert and three others make up the tiny stateside staff that is in daily contact with the main office in London. She said the ingredients are sourced from all corners of the globe to make sure they are all natural and effective.
One of the biggest selling items is the Frankincense Intense Cream and Concentrate.
"It's new and produces visible results," said Notebaert.
NYR Organic is sold exclusively by independent consultants. The U.S. office was set up in Concord in 2009.
When Notebaert started at the company in 2011, there were about 1,000 consultants, or salespeople who sell from their homes.
Now, Notebaert said there are 7,400 independent sales consultants throughout the U.S.
"It's exclusively social selling here," she said.
The products are made in England and shipped to a warehouse in Maryland, except for the supplements which are made in the US.
As a marketing professional, Notebaert said it is interesting to note differences between British and American language and usage. For instance, Mothers Day is in March in the UK, while in the U.S. it is in May. And sometimes words have different meanings, all of which makes her job fun.
"It's about education rather than selling," she said. "What is in the product? How can our customers use something safer for their families?"
She said sales consultants give out free samples. "Once they try something, they're hooked."
"We've been very well received here," said Notebaert. "People want to know what is in the products they buy, and where they are coming from."
"We are a family-owned company, and all our goods are ethically sourced," she said. "We are not run by shareholders. We are evolving in our own natural way."
For more information, go to www.nyrorganic.com.
Comella's - 12/3/2014
It's lunchtime in late fall, and Comella's is bustling. Tables are filled with eager patrons who range from six weeks to 70, all enjoying in the new location on Main Street.
Manager Jim Proctor has trained the staff and ordered enough ingredients for the homemade dishes to make the launch of the new site a success. The Italian restaurant used to be off the Walden Street parking lot, offering old-fashioned home-cooked comfort food for a reasonable price. It was small, seating about 16, Proctor said, and hard to stop at to pick up some food.
But with its new location in the former Concord Hand Designs space, Proctor said Comella's has doubled in seating capacity to 33 and added some new menu items.
"We couldn't ask for a better location," said Proctor, taking a break from serving lunch. "We get a lot of foot traffic here."
But along with the larger scope, what Proctor is most proud of is the family angle; the commitment to serving traditional Italian food in a relaxed, friendly atmosphere. There are Comella's in 11 small towns like Wellesley, Melrose, Marblehead and Natick, where customers know the waitstaff, and it's a great place to grab a pizza, a plate of wings, or an entree while watching a ball game. There is a small bar that will serve beer and wine, and two large TVs. The walls are brick and there are is a small seating area with big leather chairs to wait for a table or to pick up an order.
Proctor has remodeled the space with the environment in mind, a big plus for building owner Sharon Spaulding of Spaulding Management, LLC.
All interior lights are LED, including the outside sign and lights in the front window on Main Street. All cooking oil is recycled into biodiesel oil and other green products that have been custom designed for environmental sustainability. The flooring is made from 100 percent recycled products.
The restaurant has added barbecue chicken salad, Cobb salad and kids' macaroni and cheese and chicken fingers to the menu. There is gluten free pizza in addition to a long list of sandwiches, calzones and meals. A freezer holds food that can be heated up in the oven.
The menu is hand-painted along one wall, Proctor said. The artist used a mix of chalk and paint so it is permanent, unless of course they want to add or subtract something. He said it took the artist one week to do the menu in neat lettering.
Comella's was started by the father and uncle of the two men who are currently running the business: Matthew, John Paul and Gregory Comella. It started as a pasta place that has expanded into a full-fledged Italian eatery.
"The towns we are in are tight-knit communities," said Proctor, who has worked for the "family owned and operated" business for the last five or six years. He graduated from Wellesley High School in 2010 and had a job at the restaurant during his teens.
Comella's is open seven days a week from 11:30 a.m. to 9 p.m. For a full menu, go to www.comellas.com. The Main Street building is owned by Spaulding Management, LLC.
Think-diff Institute - 10/16/2014
The mother-and-son team that occupies the Think-diff Institute at 1666 Mass Ave. in Lexington hadn't expected to lease the office space as soon as they did.
But when the perfect suite of offices and reception area became available almost a year ago, they had to pool their resources and take the plunge, according to co-owner Jotham Busfield, who runs the psychotherapy business with his mother, Pandora MacLean-Hoover.
It was too good an opportunity to pass up, Busfield said.
Their institute, which offers individual, family and group psychotherapy, life coaching and educational and professional mentoring, is a merger of sorts between her psychotherapy practice and his professional experience in architecture.
He started noticing the impact of one's surroundings on productivity, mood and mental health.
He had been doing the billing for his mother's private practice before and after getting his master's degree in social work at Boston University, so together they pursued the idea that the office or workplace is a key ingredient of wellbeing.
"After grad school, we wanted to start a business that combined counseling and office design consultation," said Jotham. "We felt it was the right time."
The institute has larger entrepreneurial goals too, beyond individual and group counseling.
Jotham said they plan to develop apps for the mental health field. He thinks there are plenty of fitness and diet apps, but fewer that delve into mental health. Another goal is to offer seminars in office design, particularly for other mental health professionals.
He said often the typical office is a suite of small rooms with a dreary waiting area where clients sit close together.
"It's often clunky, unsettling and detrimental to those with mental health issues," he said. "Their anxiety is raised already, because they are looking around the room and wondering what the other people are doing there."
The office of the Think-diff Institute is calming and comfortable, with two outer spaces, each with comfortable furniture at various heights, and a refreshment area, followed by individual offices. There is soft lighting, individual phone chargers and WIFI available.
"We take care of our clients, not raise their anxiety," said Jotham. "It sets the tone for the hour they spend in session."
"We like to think of the office space as a canvas. Many people don't put time into their space."
He said massage therapists normally consider their décor, "but not in our field."
He said the philosophy at Think-diff leads to higher productivity and happier people.
"They work better, they are healthier and they are better co-workers."
For more information, go to www.think-diff.com.
A Pocketful of Posies - 10/8/2013
All her life, Kristin Smith admired her mom's gift Shop in Essex, Conn. She loved the variety of gifts and bath products that Dottie Smith sold at A Pocketful of Posies, and she learned a fair amount about merchandising along the way.
But it wasn't until recently that she decided the time had come to open a duplicate of that store in Lexington. She said in six months, she pulled together her business plan and signed a lease with Spaulding Management LLC for the ground floor of 1656 Mass. Ave.
Called a Pocketful of Posies, Kristin said her mother was the inspiration for the new business that will offer gifts, handmade wreaths, home décor, candles, bath products, artisan jewelry, Clothing, accessories and gourmet foods. She plans to open in mid-September.
But Kristin didn't start out in the business. She didn't grow up there; nor did she work there after school. She Went to UConn and got a degree in pathology before working at a Boston area IVF clinic for 16 years.
It was an okay job, she said, but certainly not the fulfillment of her dreams.
"I was always a creative, artsy type," she said.
An avid gardener, Smith worked at Mahoney's garden center where she realized she wanted to open a Shop of her own.
Fulfillment came when she decided to open Pocketful of Posies and to hear her talk about all things entrepreneurial, she obviously absorbed everything her mom had to say.
It's a natural fit for her, and she bubbles with excitement at the prospect of the store opening. She has been visiting trade shows and planning the interior space in the Old Schoolhouse building. Things have come together for the bubbly entrepreneur within the last six months. Her husband, Piotr Naskrecki, entomologist and professional photographer, has helped enormously with photography and design, she said.
Kristin is excited by some of the jewelry and bath lines that she ordered from a recent trade show, including the work of a ceramicist who transfers drawings of nature onto ceramic platters and mugs.
"It's simple but so elegant," Said Smith.
The Woburn resident is also upbeat about doing business in Lexington. Her landlord, Sharon Spaulding, introduced Kristin to other Mass. Ave. business owners, and the Chamber of Commerce president led her on a Walking tour of her end of the street.
A Pocketful of Posies will carry gifts for every pocketbook too. As an added bonus, the Shop is offering free gift-wrapping. Visit www.apocketfulofposies.com or call 781-460-8587.
J. Vincent Salon profile - 8/12/2013
Friends since first grade, Jason Riggio and Deena Lam are teaming up to beautify Lexington and surrounding towns one head at a time at the newly designed J. Vincent Salon in Lexington.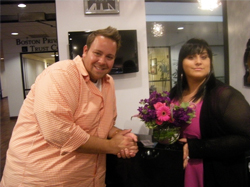 The salon, that Riggio bought from his aunt, Nancy Ursino, has been transformed from a stable, functional hair salon into an ultra chic, hip spot on Mass. Ave. for hair color and cutting, makeup and facial waxing.
"Clients come in to have a dose of both of us," said Riggio as he and Lam relaxed after a full day of business.
Along with a complete redesign, replacing the old furniture with sleek black and chrome, recessed lighting and a muted gray color on the walls, Riggio is enjoying being the boss.
Services include color, cutting, makeup services and facial waxing in a separate alcove. There is also a display of earrings for sale, along with the signature product line: Kevin Murphy.
"We wanted to offer a little bling," said Riggio.
Salon Ursino occupied the space towards the rear of 1666 Mass. Ave. for many years before Riggio completed the buyout from his aunt. He said she is in Italy for six months of the year, and pops into the new salon when she visits Lexington. He took over in January after working there for a decade.
Lam is the color expert, Riggio said. The two met at the Stoneham elementary school they attended, and have been friends and professional associates for a decade. Riggio still lives in Stoneham. He did Lam's hair for her June wedding.
While a student at college learning retail merchandising, Riggio said he "fell in love with hair dressing."
So it was convenient that his aunt owned a salon, and even better that she was at the end of her career and wanted to travel.
"She needed more help," said Riggio. Lam was working at a salon in Boston, but easily made the switch to work with her bestie in Lexington.
"I wanted to remodel this in my own image," said Riggio. "My aunt trained me well but my aesthetic is different. It used to be more mom and pop than it is now."
There are four chairs in front of large mirrors creating a big look in a small area. "The fluorescent lights are gone," said Riggio.
"The focus is on excellent beauty treatments and glamorous hair," he said. "It's Lexington's hidden jewel. I'm so happy the way it worked out."
Riggio said big rollers are back, but not a la "Grease," more Hollywood glam.
"Big, bouncy bedroom hair is in now," he said.
Lam said auburns and rich copper tones are coming in for the fall.
And as for cuts?
"We work with the natural texture of your hair," said Riggio. "It's not all about pin straight anymore." Also, he said the sulfate free products "keep the natural curl" in his clients' hair.
Riggio's salon is "high end but down to earth," a point of pride for the amiable salon owner.
While the debut of J.Vincent Salon was Jan. 12, he and Lam are planning a one-year anniversary party in the coming months.
"Aunt Nancy is proud of me now," said Riggio.
Hours are Tuesday through Thursday, 10 to 8 p.m.; Friday and Saturday, 9 to 5 p.m. The phone number is 781-860-0535.
Charles River Interactive - 2/5/2013
Westford resident Mark Desrochers started his career in the weather industry. While studying aviation in college, eventually becoming a pilot, he decided he didn't want to be in the cockpit, preferring to study "the science of flying." This led him to work for Weather Services International before moving to an online ad agency in Newton where he developed strategies for effective Internet searches. Soon he moved out on his own.
Desrochers is now president of Charles River Interactive, an eight-year-old company that develops search engine marketing strategies for large and small clients. The company is located at 1666 Mass Ave. in Lexington.
He sits in the corner office where the score of employees assist client companies in rising to the top of web searches. His clients range from big outfits like UNICEF, Lahey Clinic, Tufts Medical Center, and Children's Hospital in Boston, to the smaller business that want to become visible to the consumer.
Other clients include Massachusetts-based Zipcar and New Hampshire-based Velcro.
By using keywords, and other programming techniques, Desrochers said companies of any size can become more visible to the searcher without planning an expensive advertising campaign. His business also tracks the consumer to the maximize search.
"The web leveled the playing field," he said. Small companies can compete with larger rivals if they sit atop or near the top of a Google search. Studies have shown that consumers expect category leaders to be found at the top of search results, and search marketing consistently ranks as one of the most effective marketing channels for clients.
Desrochers said video is claiming a larger piece of the search too, and with YouTube now a Google property, companies are starting to incorporate video into their sales pitches.
"We help clients position their company in front of Google for people who are trying to find them," said Desrochers.
After a disaster, such as the earthquake in Haiti or the tsunami in Japan, Desrochers said he was able to help UNICEF reach people who were looking to donate money or services for the victims. Together, Charles River Interactive helped Unicef generate over $9 million for the victims of the Haiti earthquake.
He handles all the sales, "and I rarely have to make a cold call." It's mostly been referrals in the fast-paced, ever-changing world of web marketing but Desrochers prefers the somewhat old-fashioned concept of superior customer service, meeting with clients once a week if that's what it takes.
Charles River Interactive started in 2005, and is growing lickety split. Desrochers said it grew nearly 100 percent last year.
"We have expanded twice," he said. "In the past year we added 10 people and we will add five or six this year." He loves the Mass. Ave. location, and several employees use the Minuteman Bikeway to commute from Arlington and the surrounding area.
The culture is young and smart, and Desrochers makes it part of the company DNA to contribute to the larger world.
He said employees sponsored eight youngsters in the care of the Department of Social Services around Christmas, buying presents and engaging in joint activities. And, Charles River Interactive does pro bono work for a number of local non-profit organizations.
"Search is growing," he said. "We will continue to grow, even in this down economy." He said the future of his company will include weaving social media into search marketing, as well as responding to the growing use of mobile devices and tablets to do searches and manage our lives. "Facebook is beginning to test integrated search," he said.
"We were at the right place at the right time and we've worked hard to stay ahead of the changes in the search market," said Desrochers. "And we care about our customers. If they succeed, we succeed. Our goals are to do work we are proud of and enjoy coming to work everyday. We have accomplished both, I think."
Go here for more information.
Encharter Insurance - 1/22/2013
Under the roof at 1666 Mass. Ave., Encharter Insurance has made a name for itself by offering the personal touch.
Business Manager David Siekman said for many, insurance can be looked at as is a luxury when people are prioritizing their expenses, so he tailors each auto or home insurance plan to fit the customer.
Seikman runs the small office that is part of a group of agents owned by Encharter. He has worked in the Lexington office for seven years, having joined the insurance industry in 1999.
Siekman used to work for an insurance company that underwrote policies but prefers to be picking among the many plans out there as an agent for his clients.
"You are dealing directly with the consumer, choosing coverage for the family, and you are part of the community," said Siekman.
He also likes being in the center of Lexington. In the building, he said there is trick-or-treating at Halloween, and he convinced the on-site bank to hold a Red Sox Opening Day event for all the tenants and families.
"There is always something going on," he said of the lively group of tenants managed by Spaulding Management LLC.
Siekman said there have been a "number of changes" over the last five years in the industry.
"The state used to set the rates for auto insurance," he said. Starting in 2008, companies were allowed to set their own rates creating more competition among the insurers.
Another change, he said, is digital marketing.
"We are where our clients can find us," he said. "The web has leveled the playing field."
Also, he said agencies cannot use a credit rating score to assess a customer for insurance. In other states, companies use various assessments such as education, salary and credit score to determine how to evaluate a potential customer, but not in Massachusetts.
"We can quote a range of carriers," said Siekman.
Looking down the road, Siekman sees socio-economic factors playing a role in the insurance business.
"Consumer groups are pushing back" against large companies that pick and choose whom they will insure, he said. He said Massachusetts has one of the lowest rates of uninsured people in the nation, under 10 percent.
But the struggling economy is straining family budgets, he said.
"Disposable income is down. You would pay your insurance bill before paying for a vacation, but you have to pay the oil bill before the insurance."
Encharter is at 1666 Massachusetts Avenue, Lexington.
Trees for Troops expands in the Milldam - 11/29/2012
Marie Foley, proprietor of Concord Hand Designs, is expanding the holiday spirit this year with the sale of Christmas trees for military families that cannot afford a tree of their own.
Foley, whose store on Main Street is chocked full of every imaginable holiday gift item for all ages, said it was a conversation with Mahoney's Garden Centers that put a bee in her bonnet about donating the trees.
She said Mahoney's participated in Trees for Troops for several years from its Winchester and Concord stores. A customer can donate $24.50 and the garden store will deliver a tree to the doorstep of a family with a service member overseas.
This year, Concord Hand Designs is a donation site for Trees for Troops.
So far, Foley said she has sold 25 trees. The program runs through Sunday, Dec. 2 at 5 p.m. It started on Saturday, Nov. 24.
On Wednesday, Nov. 28, Foley said a little boy of about 5 or 6 was checking out the tree in the shop, clutching a $6.95 toy that he had been saving up for.
"He was at the age where they ask a million questions," said Foley. He said he doubted that the presents under the in-store tree had anything in them.
Foley showed the boy the military-themed ornaments as she explained that for a donation, a tree like the one in the store would be given to a family that wouldn't have one.
"He thought for a moment and said, 'so it goes to families with kids like me who wouldn't have a tree?'"
"Then he asked if $7 was enough to buy a tree," said Foley. "He put his toy back and gave me the money."
She said six bystanders heard the interchange and donated the $24.50 on the spot. Donors can give smaller gifts too, and the money goes towards the trees.
"It's never been done down here before," said Foley. But now, Mahoney's has placed Trees for Troops collection sites at 10 downtown shops around the East Coast.
She said Mahoney's passes along the Trees for Troops donations, plus $5 per tree to handle delivery.
Oriental Rug Importers, Inc. - 11/27/2012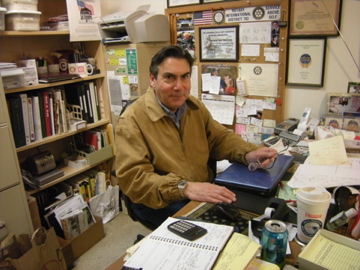 For three generations now, the Barsamian family has traded in pure wool hand-knotted Oriental rugs, said Ed Barsamian whose grandfather started the business in Boston as an Armenian immigrant in the 1920s.
"His family had been in the dry goods and textiles business before he came to America," said Barsamian who presides over the shop at 1666 Mass. Ave. in Lexington owned by Spaulding Management LLC.
From research he has done, Ed said it is "extremely rare" for a business to be in the same family for three generations. But he said growing up in the fine rug business was an opportunity to learn about both Oriental rugs and operating a business.
He said Oriental Rug Importers, Inc. moved to its current site 30 years ago and is the longest-running tenant in the strip of stores along the main Lexington artery.
"My father started the current firm 70 years ago after returning from the Pacific with the U.S. Navy and attending business classes at Boston University through the G.I. Bill," said Ed.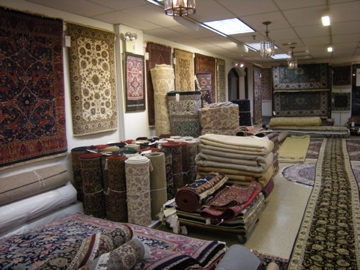 His father died in 2003.
"A family business is part of your life from a young age," said Ed. "I was exposed to the beauty of hand-knotted Oriental rugs, so after apprenticing at another company, I joined my father and grandfather."
He said all Oriental rugs used to come from Iran, or Persia, but now the market has spread to include India, Pakistan and Afghanistan and Turkey.
"All the rugs have certain indigenous characteristics in their look and feel," said Ed.
His dad used to travel to Iran annually to buy rugs to sell in Lexington, but with the advent of the Internet and email and various other world-shrinking technologies, Ed is able to work with suppliers from Asia without the trip over there.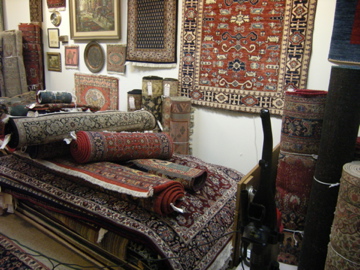 Still, the rugs are of the highest quality, he said, spun by hand using vegetable dyes to produce one-of-a-kind pieces that cover the showroom floor.
"I can tell a fake by looking at it or smelling it," he said. "I could spot a fake as soon as it came through the door. The wools even smell different according to their source."
His father's last trip to Iran was in 1978. Political and economic changes throughout the rug-making countries have altered the age-old system. Now there are fewer weavers in villages spinning wool into rugs as jobs in the cities have beckoned. And Barsamian said he has a network of importers whom he trusts to deliver supplies of rugs to his store.
"It's still a deal done by a handshake," he said. "Someone's word is good. I work with agents who will sell me the rugs I want and we work out the money later."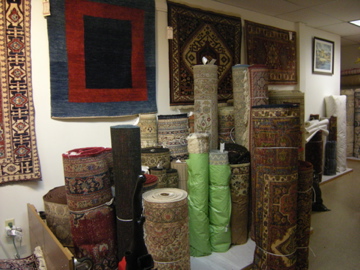 He said current trends in home décor call for smaller accent or throw rugs and less the large room-size Oriental that was a staple of grand homes of 20 years ago.
Barsamian goes on house calls to his customers' homes to advise and recommend the perfect rug. He said more than 50 percent of his customers are repeats and referrals, a testament to his loyal patrons.
See here for information about the business.
Big Picture Framing profile - 10/26/2012
From the beginning of the business in 2000, Bob Clayton and Barry Stahl wanted things to be different.
The business partners were committed to customer service and expert quality as they opened up their first framing shop, The Big Picture, in Needham, and now on Mass. Ave. in Lexington.
"Almost a classic 'garage' startup, they built the business around an old card table," the website states.
Bob Clayton said each work is treated uniquely by a team of experts in framing and art appreciation.
Many varieties of wood and metal are used to select the perfect frame. But the services don't stop there. You can get a shadow box, poster, record album, memorabilia, even a musical instrument framed to add that perfect touch to your home. If you want it on your wall or table, The Big Picture can deliver. Browse through the website for ideas.
"They are highly creative people, such as visual artists, sculptors, graphic designers, musicians and even a budding chef," the website says. Each framer undergoes an apprenticeship before working with customers. Many are artists as well as framers, Bob said.
The store also works with hotels, schools and offices to frame walls with awards and other elements of the décor. Wholesale framing for large volumes can be accommodated. Gift certificates are available.
The partners offer franchising opportunities too. There are stores in several towns from Cambridge to Newton. The Lexington store opened in the fall of 2012 in a building owned and managed by Spaulding Management LLC.
From custom design of your photos or artwork, to professional framing to low prices, The Big Picture offers the complete package. They will work with you to bring out the best in every piece.
If you find a lower price than what is quoted at The Big Picture, bring in the written quote and it will be matched for the same framing. Competitors' coupons are honored.
Old Schoolhouse preserved in Lexington Center - 9/21/2012
As you will see, we are adding a blog, profiles of our tenants and new photos. We are proud of our historic bronze rooftop weathervane, and decided to name the blog for it.
We are featuring the old schoolhouse at 1656 Mass Ave. in this blog. Our company bought the site in 1996 and did extensive repairs and renovations that took most of the year. During this period, we uncovered some fascinating details behind the walls that let us see inside the school. We found a primer belonging to student Mariam Kirkland, who went on to become Lexington Town Librarian from 1892 to 1939.
In her notebook, Kirkland addressed such topics as the detriments to health from alcohol and tobacco as well as lessons from American history. A horseshoe was also found during renovation.
At Spaulding Management LLC, history is an integral part of our development. Researching the old schoolhouse fit right in with our philosophy and our attention to detail.
The schoolhouse was built in 1837 in the town-center Vinebrook district. But in 1851, the selectmen decided not to keep it as a school and sold it to Isaac Damon for $200. A year later a new school was built on Waltham Street opposite Vine Brook Road for $2,942.
Further records show that the old school once held Episcopal church services after its sale.
Our company now has three sites in a row that have been restored with historical integrity and flair. Nos. 1646, 1656 and 1666 Mass Ave. are occupied by a variety of interesting tenants who appreciate the loving attention with which the buildings have been restored.
It's the fun part of the job, learning the history of a building, a time and its people. The buildings have personalities! We like to think we are keeping the memories alive in the little schoolhouse.
Current tenants are Atlas Travel and the Savvy Travel Store, Connor Architecture and Concern Company.
Lyn Evans Potpourri Designs - 8/31/2012
Lyn Evans is celebrating 20 years of successful retailing in Concord Center this summer. Her store, Lyn Evans Potpourri Designs, opened on Main Street in 1992 and she has never considered moving away from the Milldam.
The Main Street building is owned and managed by Spaulding Management LLC.
"It's the longest standing shop to date of the eight stores I have," said Evans.
Evans said she knows her customer, and that woman prefers shopping in Concord rather than hitting the mall.
"My customer was here," she said of her decision to open in Concord, "and still is. We were instantly successful here." She said her customers "have grown with us, but always maintained a fashion attitude. They are always on trend."
The store carries upscale, contemporary women's clothing and accessories, even winning popular acclaim for its accessories. Click here for more information.
What does she see as new trends?
"Shimmer," said Evans. "And leather, fur. Designers are doing great things with faux leather and fur." She said gold is a popular color, as are "feminine" jackets that get away from the more manly blazer.
Evans said she buys her merchandise in New York and Las Vegas, ever on the lookout for new designers and new lines as well as the more established lines that sell well year in and year out.
She said her clothes are intergenerational with an eye toward contemporary style.
Evans said she loves the Milldam and enjoys being a tenant of Spaulding Management LLC.
She changed the name of the store, which used to be just Potpourri, to Lyn Evans Potpourri Designs in a rebranding effort in the late 1990s. She said someone took the Potpourri name on a different web site.
But Evans knows a good thing and is sticking with it. She said Legal Seafoods founder George Berkowitz told her something she never forgot: "Stick to your knitting."
Carl Oldenburg profile - 8/23/2012
Lexington architect Carl Oldenburg, of Oldenburg Architecture, knew what his profession would be by the time he was seven years old.
He recalls he always enjoyed looking at buildings, even drawing some sketches for a family remodeling project while in the fourth grade. Oldenburg grew up in Marin County, Calif., and after college at UC Berkeley, graduated from the Harvard University Graduate School of Design in 1982.
What matters to Oldenburg most in residential architecture is how a house functions for the people who use it, how it reflects their personalities and taste, and the interconnection between a house and its surroundings. He considers architecture, of course, but also landscape design, environmental impact and suitability, and style of the neighborhood.
"Each house is unique to the site, but also you have to consider the region. There are contextual differences," he said. "You need to think of the larger design."
He works from his Lexington office for clients in surrounding towns, Cape Cod, New York, even California. He has lived in Lexington since 1986 and his two children have gone through the local schools.
Much of his work lately has been of two types: building from the ground up, or a major remodel. He finds that many of his clients are empty-nesters who, ironically, want to increase the space in their home for returning family rather than down-sizing, or they want to replace a tear-down to their exact specifications.
People are expanding at all phases of life, he said. "I help them achieve their dreams."
Oldenburg designs homes, often staying with the project all the way through construction and move-in to assist with furniture placement and paint colors.
He enjoys the office building at 1666 Mass Ave., owned by Spaulding Management LLC, because of its proximity to Lexington town hall, post office, shops and restaurants, among other amenities, as well as the friendly atmosphere created by the other tenants.
To learn more about Oldenburg's work, click here.
Interior designer opens shop in September - 8/7/2012
Lexington native Robin Gannon is opening an interior design business and home furnishings and accessories shop on Mass. Ave. in Lexington Center next month.
Gannon comes to the design business by way of the courtroom. She is a former criminal prosecutor and defense attorney who worked in Essex and Suffolk counties. In 1996 she started her own practice. During this time, she indulged her love of retail marketing with jobs at various apparel stores in and around her hometown.
But after having four children, she needed a career that was comparatively free of the deadlines and pressures of her legal work, and started consulting with friends on interior designs. Gannon was sought out for her advice on style and décor. She enrolled at the Boston Architecture College in 2005, starting her design business four years later.
Gannon specializes in high-end yet comfortable home furnishings and personal accessories. Haven, taglined "hip, sophisticated interiors and accessories by Robin Gannon Interiors," will sell furniture, home and personal accessories and some clothing. In the back of the cozy space, she has set aside space to meet with clients. She said she would own everything she carries.
Gannon loves Lexington and the diversity of its residents. That's not to say there isn't room for Haven or Robin Gannon Interiors. She said the furniture, fabrics and design pieces she offers are not available outside Boston, and she keeps her prices reflective of her customers.
For more information about Robin's business and store, see here.
The Meriam-Wheeler House - 8/2/2012
Just across Virginia Road from the Spaulding Management LLC headquarters stands the 17th century Meriam-Wheeler House. The residence, bought and restored by the company in 1983, is listed on the National Register of Historic Places. The retail end of the business, called Haven, is on the first floor of 1646 Mass. Ave. in a wood frame building owned and managed by Spaulding Management LLC.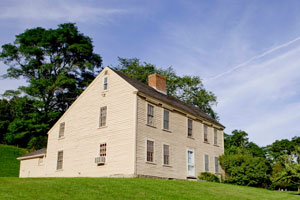 The house overlooks the 90-acre Concord Farms, a pastoral expanse of rolling hills and trees that includes the red barn with its iconic bronze weathervane. The renovated barn houses the corporate offices of Spaulding Management LLC and several other tenants.
The old farmhouse retains many of its original features. The first major renovation occurred 20 years after the original construction in 1692 when a lean-to was added to complete the saltbox appearance. The surviving woodwork dates back to the middle of the 18th century. The woodwork is found in the entry stairs, the parlor and parlor chamber. An unusual feature of the "best room" or parlor, is the "lambs tongue" decorative treatment of the molded corners of the chimney.
An unusual story about the house is that a fire broke out in 1921 when the occupants were asleep and alerted to the fire by a barking dog belonging to a houseguest. A Nov. 20, 1921 newspaper article describes the heroism of the toy Pekinese, Sho-Fu, who climbed the T-shaped stairs in the attic to awaken the residents.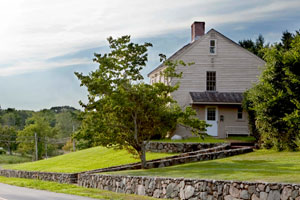 "She sniffed the air," wrote John Brady of the Boston Sunday Post. "It smelled funny and choked her as she drew in a long breath. Then she jumped up, and looked down in the hole in the floor. The room below was all alight. She felt a wave of intense heat coming up." Sho-Fu apparently could not bark, so she tugged and tore at the bed clothes, waking her owner who, with her brother and a "hired man," got out in time.